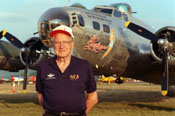 Major Robert K. Morgan standing in front of "Sentimental Journey", a Confederate Air Force B-17G
During World War II, Major Robert K. Morgan piloted one of the most famous aircraft of WWII, the "Memphis Belle." The B-17 was named after Morgan's wartime sweetheart Memphian Margaret Polk.

The Memphis Belle received recognition on May 17, 1943 when its crew became the first to survive a full tour (25 missions) over Nazi occupied territory.

The odds were stacked heavily against survival. At the time, more than 5 percent did not return from each mission flown in the air battle over Europe. Nonetheless, the crew approached each assignment with professionalism. "There weren't any milk runs or easy missions." Morgan stated, "We were very fortunate to come back every time."

After the Memphis Belle survived it's 25th mission, it returned home to the United States, and the crew was the first to be inducted into the "Lucky Bastards Club."

In 1987, the original Memphis Belle was restored to its current condition and placed on display in Memphis, Tennessee, and later Mud Island where it still serves as a memorial to the men of the U.S. Army Air Forces in England during World War II.
BACK +