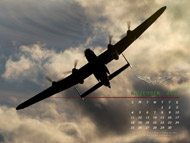 AMERICAN CALENDAR
800 x 600 | 1024 x 768
1280 x 800 | 1280 x 1024
SELECT RESOLUTION


EUROPEAN CALENDAR
800 x 600 | 1024 x 768
1280 x 800 | 1280 x 1024
SELECT RESOLUTION


CLICK HERE
For Great Aviation Stories!

This month's desktop calendar features a wonderful RAF night bomber, the AVRO Lancaster B1. This aircraft is part of the Battle of Britain Memorial Flight and can be seen flying from time to time in England.

Photo Credit: Gareth Horne
Date Photo Taken: October 5, 2003
Location: Coningsby (QCY / EGXC), UK

Here are instructions on how to download and install this month's calendar wallpaper for Windows and MAC OS desktops.
WINDOWS:
Click on correct resolution for your display to open a window with the full size image being displayed.
Click your right mouse button on the full-size image and select "Set As Wallpaper" from the pop-up menu to set the image as you desktop's wallpaper.
MAC OS:
Click on correct resolution for your display to link to the full-size image.
Click and hold on the image, then save it to your hard drive.
In your Desktop Pictures control panel, click "Select Picture" (if you already have a picture, click "Remove Picture" first, then "Select Picture") and choose the image.
Click "Set Desktop" and close the control panel.
BACK +