With increased American involvement in the Vietnam War, B-52Fs were deployed to Andersen AFB on Guam. Units of the 7th and 320th Bomb Wings made a new home on the tiny Pacific island that had been the take-off point of countless B-29 missions against Japan over two decades earlier.
Soon after arrival, in June of 1965, the B-52s were ready to commence combat operations against suspected Viet Cong positions in South Vietnam. The missions were code named Arc Light and Young Tiger. Fearing the political ramifications of losing a B-52 over North Vietnam, the bomber's mission was restricted from attacking North Vietnam.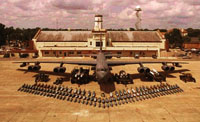 On June 18, 1965, the first such raid was carried out against suspected Viet Cong forces in Ben Cat, just 40 miles from Saigon. Twenty-seven B-52Fs took off from Guam, refuelled, and proceeded to the target. Results were difficult to measure, however, as bombing accuracy was poor. Not only was this the first combat use of the B-52, it was also the first combat loss. Two B-52s collided soon after takeoff in a tragic accident, with a loss of all eight crewman.
Nonetheless the Arc Light raids continued, despite some misgivings within SAC regarding the use of high altitude radar bombing against the Viet Cong, by all accounts a scattered guerrilla force. The effectiveness of mass area bombing, however, was soon proven and the plane went on to play a very successful role supporting ground forces in combat.
By the spring of 1966, all of the B-52Fs were replaced in the field by B-52Ds, each of which was modified to carry more conventional weapons than the F model. These modifications were termed the "Big Belly" B-52D. A single D Model could carry over 108 of the deadly 750 pound iron bombs.
For the next 30 months, B-52Ds flew out of Andersen AFB on Guam, U Tapao in Thailand, and Kadena AB on Okinawa, hitting targets across Southeast Asia, including in Laos and Cambodia, as well as the famous Ho Chi Min Trail. To further beef up the force, B-52Gs were also deployed to the combat zone.
The BUFF played a decisive role at Khe Sanh, where six plane elements attacked enemy positions every three hours. By the end of the battle, the area surrounding Khe Sanh looked like a battered moonscape. Countless thousands of the enemy had perished.
At the end of March of 1972, the North Vietnamese commenced a massive invasion of South Vietnam. Within three days, B-52s entered the fray. The campaign was code named Freedom Train. It wasn't long before the limitations of Arc Light were removed. For the first time, B-52s crossed the border, pounding rail yards at Vinh, airfields at Bai Thuong, and targets around Hanoi and Haiphong.
On May 10, the operation was renamed Linebacker.