War in the Air : True Accounts of the 20th Century's Most Dramatic Air Battles-By the Men Who Fought Them
by Stephen Coonts (Editor)
Hardcover - 352 pages (December 1996)
Pocket Books; ISBN: 0671881906
    Buy it today!


---
The Quest for Mach One : A First-Person Account of Breaking the Sound Barrier
by Chuck Yeager (Editor), Bob Cardenas, Bob Hoover, Jack Russell (Editor), James Young
Hardcover - 192 pages (October 1997)
Penguin Studio; ISBN: 0670874604
    Buy it today!


---

Ironclaw : A Navy Carrier Pilot's War Experience
by Sherman Baldwin
Hardcover - 265 pages (September 1996)
William Morrow & Company; ISBN: 0688143032
    Buy it today!


---

A-Train : Memoirs of a Tuskegee Airman
by Charles W. Dryden
Hardcover - 432 pages (April 1997)
University of Alabama Press; ISBN: 0817308563
    Buy it today!


---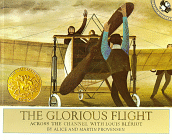 The Glorious Flight : Across the Channel With Louis Bleriot, July 25, 1909
by Alice Provensen, Martin Provensen
Reading level: Ages 4-8
Paperback - 39 pages Reprint edition (August 1987)
Viking Press; ISBN: 0140507299
    Buy it today!



---