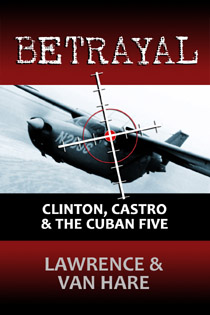 THIS MONTH'S BOOK REVIEW
MAY 2009
BETRAYAL: CLINTON, CASTRO & THE CUBAN FIVE


Thirteen years of research and two years of writing have produced one of the greatest real-life, true tales of aviation, espionage and intrigue. Co-authors Matt Lawrence and HistoricWings.com's own Thomas Van Hare together bring to life the story of the shootdown of Brothers to the Rescue off the coast of Cuba.

On the morning of February 24, 1996, three aircraft took off from Opa Locka Airport in South Florida on a routine search and rescue mission. The aircraft were Cessna 337 Skymasters and the mission was identical to those the group had been flying for six years. In that time, the group had saved over 15,000 lives, almost all Cuban rafters, the so-called balseros who would build tiny rafts and row northward in hopes to escape Cuba and survive the journey to freedom in the United States.

That day, however, instead of saving lives, the three planes were attacked by two Cuban MiG jet fighters. Within minutes, two were shot down in what would later be termed, "cold-blooded murder". Four men were killed -- three of were American citizens. A third Cessna 337 Skymaster aircraft fled northward, pursued closely by a second pair of Cuban MiGs, who hunted the plane nearly all the way to Key West.

The book presents sworn testimony, court records, evidence, Freedom of Information Act requests, and official government releases and statements to make clear the real history of what happened that day.

The book reveals that the Cubans didn't attack "out of the blue". Instead, Fidel Castro's government asked permission of the Clinton Administration to attack and murder Americans. As inflammatory as this charge sounds, the authors make clear that the facts presented in the book are not unsubstantiated -- every claim is backed up and supported, in detail -- the references are freely available and cited with each chapter.

The public figures involved range from the President of the United States, Bill Clinton, to Sandy Berger, Gov. Bill Richardson and dozens of other figures, many of whom in all likelihood knew in advance what was to take place and did nothing to stop the murder.

As for the USAF's jet fighters that day? It turns out that not only did they not scramble to intercept the Cuban MiGs, they were instead ordered to taxi back to their hangars and shut down their engines.

The book is an incredible read -- detailed, yet brilliantly written in a way that personalizes the story. It brings the reader right into the airplane seats alongside those who died.

When the last page is turned, the reader is faced with a moment of truth. What really happened out there? Who knew in advance? Why was nothing done? Who could have stopped it but did not?